Full Board URL:
http://mb.perfectdenial.org
XMB Version:
1.9.11
Edit: I've solved the issues, nothing to see here folks!
Hello!
I've recently began working on building a forum (
http://mb.perfectdenial.org/
), and I'm a bit stuck as to which templates I would need to edit, and how, to make the header of the forum a lot neater.
My forum currently looks like this: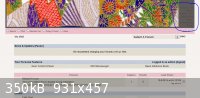 and I'm aiming for it to look similar to this (the image from an XMB forum a few years ago which i took a screenshot of via web archive

)
Any help would be muchly appreciated!