felipemsqta

-

10-8-2012 at 05:48 AM



Full Board URL: http://blogdopanda.com/forum
XMB Version: 1.9.11

Hello, I used to have a forum a long time ago, and I had installed the 1.9.5, where I did myself the customization, and now I can't do it anymore and I'm afraid do delete something and turn it into a headache.

I need some help, cause as you can see, it's all messed up. My forum is like this:




And I'd like to make some changes as the image below: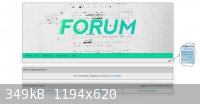 1. Delete all the images from the main menu
2. Let just the image above the main menu
3. Delete the last active
4. Create a new tab and put the "Logged in as..." in the left, an in the right, put the link
4. Delete all the things under the menu like Your Forums and the menu in a box

Like this forum I used to have




How can I do all these things? Somebody please, could help me?

---
Mouser

-

10-8-2012 at 10:30 PM



Just a week or two ago I showed someone else... How to do almost the same you are asking for.

But XMB 1.9.5 is very very old and unsafe.
And to be honest, I don't really remember how to do anything there.

Are you sure you don't want to upgrade to a ... more recent version?
---
felipemsqta

-

10-9-2012 at 10:23 PM



I have the 1.9.11 version installed, but I'd like to what I used to have in the 1.9.5 a long time ago in this version...

How can I do that?
---
Mouser

-

10-10-2012 at 06:17 PM



Use these two files I attached here (and do the change to functions.inc.php);

http://forums.xmbforum2.com/viewthread.php?tid=776788#pid137...

As far as I know, (s)he installed no hacks. Fresh forum. So this should work fine on yours as well

---
felipemsqta

-

10-11-2012 at 02:42 PM



Thanks a lot, you helped me a lot, but just a question... How can I let just the imagem in the header, without the borders?

http://blogdopanda.com/forum
---
Mouser

-

10-14-2012 at 08:35 PM



The logo , outside of the table.

That's simple HTML , use this header template.

Admin Panel --> Templates


What's the real URL to your forum btw? That one doesn't work







If you want to remove the images in the links from the menu, look up the links in the header.php and remove the image tags there.

If you want the "last visited" text gone, delete the $lastvisittext variable from the header template.

With some basic HTML skills you should be able to create a new 'tab', as you put it, yourself. If not, feel free to ask



Attachment: header.template.txt (2kB)
This file has been downloaded 163 times


---